About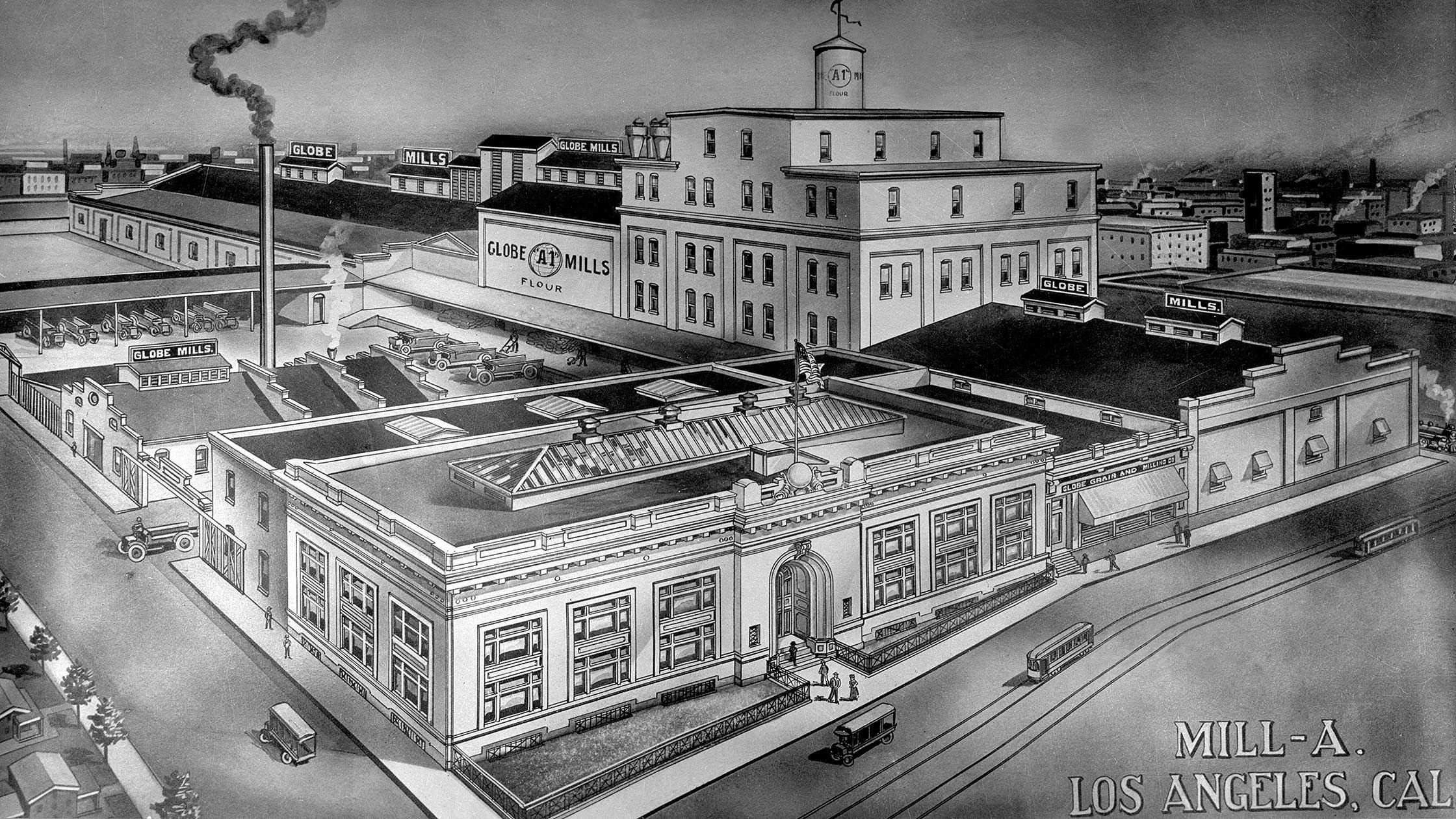 History
Hauser & Wirth inhabits the restored Globe Mills complex, a collection of late 19th and early 20th century buildings adapted by Creative Space, Los Angeles, in consultation with Annabelle Selldorf, Selldorf Architects.
The collection of buildings on this site originally housed Globe Grain & Milling Company (A-1 Globe Mills), which benefitted from close proximity to Union Station and LA's historic Red Car mass transit system. A spur from the Santa Fe Railway brought wheat from California's central valley directly to the mill for processing, and then on to the port for shipping worldwide. The mill's success reflected a shift in California's economy from the speculative Gold Rush of the 19th century to robust farming in the 20th century. The architectural motif of wheat sheaves coupled with a steamship steering wheel, visible in the column capitals along the ceiling of this breezeway, conveys the mill's industrial pride.
If the mill tower was the heart of the facility and the engine of industry on this site, the neoclassical bank building facing East 3rd Street was the grand façade, welcoming customers into the soaring sky-lit arcade that is now the South Gallery of Hauser & Wirth; its institutional architecture signalled an economic and cultural commitment to the public. With this complex as its headquarters for nearly 40 years, Globe Mills was a powerful part of the local and state economy. The Pillsbury Flour Mills Company acquired the property in 1941 and operated here into the mid-1960s.
In the 1970s, with light industry moving out of downtown and the Los Angeles businesses decentralizing, the expansive spaces of the district's abandoned factories attracted artists and musicians who reappropriated the area and ignited its transformation from a dangerous and desolate place to a hub for creative industries. Thanks to the pioneering influence of artists and the local community, the Downtown Arts District is now home to art galleries, architecture and design firms, television and film production studios, new and converted residential architecture, and the Southern California Institute of Architecture (SCI-Arc). The gradual evolution of the Arts District has ensured that historic buildings exist in harmony with new construction.
Now home to Hauser & Wirth, the Globe Mills complex has been preserved and adapted for a new life at an exciting moment in the history of downtown Los Angeles.